Artisan Collector 10x10 Case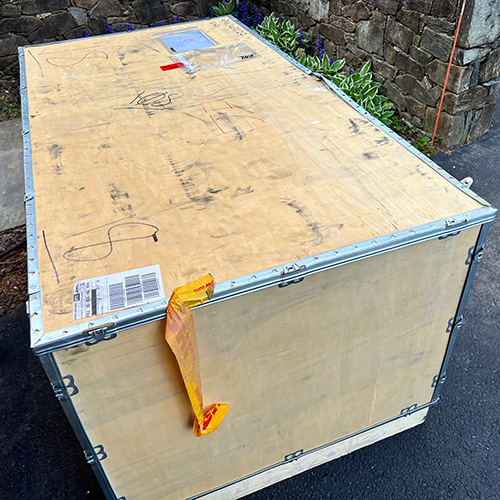 The cases have been sandblasted as per original spec, packaged, and arrived! I will now begin the process of gathering mailing addresses and planning for shipment. I am also running local transit tests, to make sure the packaging is sufficient, and will order extra packaging if needed. If you placed an order, feel free to PM me on discord with your shipping address, but I will be reaching out to all of you individually to collect shipping fees and verify your address. There are some important notes below regarding expectations of small blemishes - so please read that. I am still setting end of July as full shipment complete, but hope to have these out well before then.
In case you're curious, the cases were shipped together in one big crate. There was half-inch foam around the walls of the box, and although the crate walls weren't the thickest, everything seemed to be in good shape.
After opening the crate, all the individual cases were moved indoors to check for any external damage to the boxes. My friend Zekth (the man behind Keycap Archivist) was visiting, so I enlisted his help with the move.
All the case boxes appeared to be in good condition, so it seems no damages occurred during shipment from the factory. So far, so good. Then I moved on to open and inspect a few of the cases...
IMPORTANT: Some Blemishes Expected
As mentioned in the GB form, I expected there to be some blemishes in the finish from machining marks and handling. Some examples of these blemishes were also pointed out in the last GB update. Below are some examples of small scratches and other marks you can expect to see when you receive your case...
Note: These are zoomed in images, so may appear more obvious than when viewing the whole case
The small damage in the center grid is present to some degree in all cases, likely from some tooling or finishing process. It annoys me, but is within the quality of what I expected from this factory at this price point (with CNC and bead blasting). Here is another example of this center grid mark...
Please note it was specified on the GB form that blemishes are to be expected - see screenshot below.
Money Back Options, Just in Case (no pun)
I totally understand that despite this disclaimer, some people may not be happy with these issues, so I will be providing the following options:

1. Obtain a refund before I ship: if you do not want to get a case with blemishes like what you see above, I will provide you with a refund. I will check on this with you when I reach out to confirm your shipping address. I cannot open the packaging and visually inspect all cases before shipping, so please do not request that.

2. Get a refund after return: Once you receive the case, if you are unhappy with the condition, you can return it for a refund within 10 days. If possible, I will try to replace it with a different one, but may not be able to confirm for certain or give you a date. Only return for a refund if you are ok with not having a replacement. You must contact me within 10 days of receiving the case to request a return, and I can only process the refund once I receive the case in the original condition. No international returns, so make sure your proxy checks for you.

I also want to mention that the sliding lid is fairly tight, and will require some effort to open initially. The prototype lid was way too loose, so I'm glad they addressed this. I suspect the lid will become easier to open with use over time.
I am truly sorry in advance if these issues result in the GB not meeting your expectations, and want to make sure no one feels they paid for something they don't want. I'm hoping that everyone will enjoy the product regardless of these imperfections, and that the cases provide a good storage option for your artisans. =)
Shipping Fees
Shipping fees will be charged as follows...
1 box: $18
2-4 boxes: $15 per box (shipped individually)
5+ boxes: I will provide a custom quote for bundled shipping

Please note: shipping responsibility is domestic only, up to your US proxy for international customers.
Will There be Extras?
Many people have asked me if there will be extras. Unfortunately, I will not know the answer until all units have been shipped and everyone has decided whether they are keeping theirs. One vendor has purchased some, so you will be able to buy from them when they list for sale. If I have leftovers or returns, I will offer them to those who reached out, albeit at a slightly higher price than the GB, and with caveats about the condition.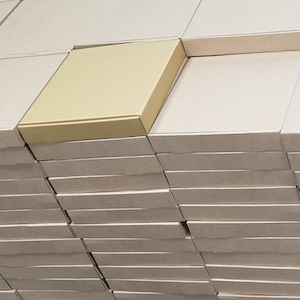 Thanks again to those who joined this friends and family group buy for the Artisan Collector 10x10 case. The GB closed in mid December 2021, and I have been communicating with the manufacturer through the process. As expected, COVID issues are causing intermittent delays, and the factory was recently shut down (along with all others in the region), due to large outbreaks in China. Given these uncertainties, accounting for some personal travel, and the possibility of a few replacements due to any quality issues, I am hoping to have the cases before the end of Q2, and have them shipped to customers by end of July. I will post further updates, including progressively accurate timeframes, on this page and Instagram as things progress.
One of the areas of concern I have is the packaging this manufacturer is using, which I feel may not provide and ideal level of protection. This could be just paranoia on my behalf, ao I asked them to mail me one case in the production packaging as a transit test. Unfortunately, the courier put the case box into another box, so it wasn't the perfect test I was hoping for. Here are a few pics of the transit test...
The transit test production unit was pretty decent, with a few observations:
It is missing the inner bead-blasting. I have requested they fix this and am waiting to hear back.
It is slightly less clear than the prototype, but nothing that would impact viewing artisans (see pics below).
It had some minor nicks (see pics below), which I pointed out to the manufacturer and told them to check for
As described in the GB form, I do expect the cases to have a few minor nicks and scratches, but if there's anything significant that impacts the look or functionality on any of the units, I will contact the manufacturer for replacements. The bead blasting only on the outer bottom is a concern to me, and I will have an update on that soon.
The manufacturer is continuing to complete the manufacturing process, assembling the boxes, and wrapping. Once they have passed QC, these individual boxes will be packed into a large crate, and then shipped to the USA.
I wanted to share some photos of caps in the transit test, non-bead blasted unit, to show how it looks with both open and closed case against a non-white background...
If you have any questions or concerns, please feel free to PM me on discord. In the meantime, I will keep managing the production with the manufacturer and provide an update within a few weeks.
MONOCHROME CASE
By popular request, here is a photo of a variety of monochrome artisans in the case...

First person to PM me an accurate list of all the artisans in this photo wins a monochrome artisan duo, consisting of a Nightcaps Velvet LeChance II variant Fugu and a Zorbcaps N9 Orxplorer v2. Must include maker name, sculpt name, colorway name (or "unknown" if no colorway name), and link to the artisan on Keycap Archivist, if it is listed there. (If you already have one of these artisans, please consider giving others a chance to win them.)

Congratulations, 89s! Full list here
Original GB Post
December 2021
Artisan storage is something that hobbyists with large collections often find themselves compromising on. The affordable cases are mostly 3D printed, acrylic sandwich, or lower quality manufacturing. Higher grade CNC machined acrylic or aluminum cases are more expensive and not really economically feasible for larger collections. Taobao used to sell an inexpensive 10x10 case, but this had some quality issues, did not fit taller or oversized caps, and has since been discontinued. For growing collections with several hundred or more artisans, there seems to be a lack of decent quality storage solutions that don't break the bank.
So I set out to see if an alternative can be produced that strikes a balance between price and quality, and serves the needs of resin addicts like myself. After iterating through a few different prototypes and manufacturers, I enlisted some design help from Haytco, who produced several versions of the well-regarded Hayt artisan case. Here is the final version of what these efforts ultimately produced...
Having tried almost every popular artisan case available, and being a heavy user of the Taobao 10x10 cases, there were some specifications that I wanted in an ideal artisan storage case:

1. Include a sliding lid (less parts than magnetic or band, more secure than friction or flush fit)
2. Accommodate artisans as tall as 20mm (e.g. Omniclectic's Bruce)
3. Inner cell wall height had to accommodate oversized artisans (some sculpts exceed the length and width bounds)
4. Frosted base for better light diffusion and photography
5. Rounded corners for better aesthetics
6. CNC acrylic or polycarbonate (whichever is less expensive, so likely acrylic)


Sliding Lid Design
I had previously provided Hayt with some of my ideal internal dimensions for inner cell and wall height when he was working on the Hayt case, so he was able to quickly design the overall structure of the case, leaving the sliding lid as the main element to tackle. We settled on a design that had a negative taper angle to the lip of the case, which the slightly angled cover would slide into.
The Prototype
Once the initial design was complete, I worked with a manufacturer in China to order a prototype. Their engineer suggested a few changes such as internal radius, and had to create a new tool to machine the exact angle of the case lip to accommodate the sliding lid. The outer dimensions of the box are as follows...
Length and Width: 24.5cm (9 5/8 in)
Height: 2.8cm (1 1/16in)

The first prototype was excellent, but the polishing step before bead blasting pushed the cost higher than I felt comfortable with. So we dropped the polishing step, and I ordered another prototype to make sure I was satisfied with the finish. It was a little less refined, but still difficult to spot any machining marks at first glance. You can see the results below...
Usage Testing
I tested the initial prototype for over a month as my most active box, opening and closing the lid several times a day. The case lip seems to hold up well, and some minor scratches developed on the lid as expected with wear, but not enough that it became a distraction. I was pretty happy with the overall look and feel, and the case also weighed less than the Taobao 10x10s.
I also wanted to ensure the case conformed to the design specs, allowing for unusually oversized or taller sculpts that were problematic in other cases. I tried sculpts that were both taller than normal, up to 20mm in height, and also some that had unusually large length and width measurements. You can see examples of how the case accommodates some larger artisans below...
Estimated Pricing and Initial Group Buy
I really wanted to aim for a price per cap storage of $1 or less (not including shipping). Most cases that are manufactured using similar methods have a price per cap of $2 or more, more than double what I am targeting. With some adjustments to the process, we managed to work with the manufacturer to get the pricing down to what I hope will be a manageable $100 plus shipping.

Since this is my initial foray into running a group buy (GB), and this is a first production run for this case, I am keeping it somewhat limited to a smaller MOQ and mostly promoting through private groups as a friends and family GB. Friends of friends are welcome to join, but anyone not comfortable with an unknown delivery timeline and final price, should avoid this GB. You may be able to purchase the case from a vendor in the future (no guarantees). For those who do join - thanks for supporting the project and for your patience with the delivery!
GB Closed
MOQ hit, payment requests starting. Thanks very much for everyone's support!
ARTISAN DETAILS
For those who want a closer look at artisans in the case...

First person to PM me an accurate list of all the artisans in this photo gets a 5% discount off their order. Must include maker name, sculpt name, colorway name (or "unknown" if no colorway name), and link to the artisan on Keycap Archivist (if it is listed there).

Congratulations, Lightning! Full list here